While there has been plenty of talk about how best to solve the UK housing crisis, there seems to have been much less actual progress being made when it comes to addressing the issue, regardless of the positive noises emanating out of Westminster. One company that is endeavouring to make a real difference, however, is Hampshire-based Low Carbon Construction (LCC), which has ambitious aims of developing in excess of 10,000 quality homes annually, as owner and creator of the business, Simon Allso, recently outlined to Construction Industry News.
"It is our aim to provide sustainable housing developments that are accessible to all," explains Mr Allso. "It is clear that successive governments have tried and failed to achieve this, so now is the time for change. Everyone deserves the security of a safe, quality home that they can afford to buy or rent, then to run, and yet millions in the UK simply don't have this as a fundamental sanctuary.
"I wanted to turn tradition construction methods on their head for a variety of reasons, such as the labour and skills shortages, and whilst offsite modular construction has its attractions, it also has its limitations. In contrast, with our method we actually take the factory to the construction site in what we call 'Onsite/Offsite™'. Basically this allows us to effectively take a volumetric assembly factory to every single construction site to deliver housing, which removes the capacity issues associated with off-site modular construction, as well as the problems related to the labour shortage. There are also cost benefits involved with our method too, because overheads are reduced by the fact that a temporary unit on a construction site is not rateable and obviously there is no rent to pay. By stripping away these costs we're able to provide more affordable homes."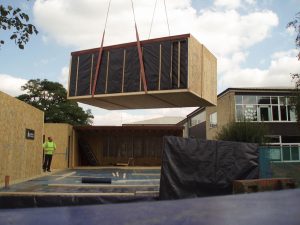 "Another important step was simplifying the construction process and as a consequence we're now able to deliver a three-bedroom home in parts: ground floor, first floor and roof. This is simpler but involves much more volume. We've therefore worked hard to develop an unbreakable supply chain involving some of the largest companies in the UK, including the likes of Victoria Plum, Topps Tiles, Vent Axia, Howdens Joinery Co and Hemsec SIPs. The strength and pedigrees of these companies give us the scale and quality that we require. What's more, from the very beginning our strategy was supported 100 per cent at board level by these companies. Without this level of backing it would be fair to say that the strategy we have developed would have been impossible to achieve."
Although LCC's solution is needed now more than ever, the fact that the developer-constructor's origins date back to 2011 underline the fact that it's no 'flash in the pan' operation and instead has real long-term aspirations. Since its creation it has been designing and producing modular Structurally Insulated Panels ('SIPs') for residential and commercial properties of high and low value in order to establish case studies and proof of concept.
"It is our aim to provide sustainable housing developments that are accessible to all. It is clear that successive governments have tried and failed to achieve this, so now is the time for change. Everyone deserves the security of a safe, quality home that they can afford to buy or rent, then to run, and yet millions in the UK simply don't have this as a fundamental sanctuary."

Simon Allson, Owner
Using SIPs assembled in a Volumetric Onsite/Offsite™ factory, homes and industrial units can be built faster and more economically, with a negligible carbon footprint in comparison with other construction methods. By adopting a pioneering method of design and construction, LCC believes it is possible to provide in excess of 10,000 quality homes a year at affordable pricing on both high and low value land sites, meeting the increasingly unmet needs of thousands of low income householders across all tenures.
In addition to the cost efficiency of the method of construction, initiatives introduced by LCC in conjunction with Low Carbon Construction Finance to assist those struggling to buy or rent such a property include:
Those wanting to move from rental to purchasing can get a 100 per cent refund on all the rent they have paid during the first two years of occupation which will be used towards the fixed purchase price;
Key workers are able to borrow up to 10 per cent of the purchase price unsecured for up to 15 years at zero per cent interest;
LCC will match first time buyers' deposits up to 10 per cent of the purchase price to assist with that ever-challenging issue of raising a suitable deposit. This will take the form of a 'gifted deposit';
Retired customers will be able to secure up to 50 per cent lifetime mortgages, available with no monthly payments required, if they have a 50 per cent deposit and meet the minimum age requirement;
Initial tenants, and those purchasing the properties, are able to choose their own tiles, floors, kitchens and bathrooms from the selected supplier lists.
While LCC's objectives are as admirable as they are desperately needed, unfortunately UK affordable housing has on many occasion not proven to be 'affordable' for long. However, the company has taken pains to address this issue by introducing stipulations to prevent the more unscrupulous from profiteering. "We have instigated special legal measures in our purchase contracts for properties in high land value sites to ensure they remain available only to those families under a certain salary threshold in perpetuity, avoiding the properties becoming a commodity to make instant capital gain, or falling into the hands of wealthy landlords," outlines Mr Allso. "As an example of our pricing for 2018, you can buy a freehold three-bedroom, two-bathroom 90 sqm semi-detached house for £179,995, or rent it for £695 per month, anywhere in the country.
"We are committed to meeting the ever-growing challenge faced by first-time buyers, those on low incomes, key workers, retirees and all those who struggle to afford to rent or buy their own home. We are striving to create affordable, high quality, low maintenance homes that cost little or nothing to run, and are challenging local authorities and government by demonstrating how the complex barriers to affordable housing supply may be reduced, if not removed altogether."
Again underlining the robustness of its infrastructure and its long-term approach, LCC has developed relationships with more than 50 supply chain partners in an attempt to create new housing and communities in a way not seen before. Environmentally sustainable features ensure minimal electricity bills and financial assistance schemes have been developed to help those wanting to buy or rent. Immediate delivery targets of 1,000 UK homes per annum for rental or purchase will rise to a minimum of 10,000 UK homes per annum by 2021 on dedicated 100 per cent affordable housing sites.
Because a dedicated temporary Onsite/Offsite™ modular assembly factory is constructed on each development site, besides the usual traditional building constraints being avoided, there are no volume restrictions on the number of homes that LCC can manufacture each year. As an added bonus, it is believed that around 100 local jobs will be created at each site.
Having painstakingly developed the methodology and the supply chain to support it, LCC is now looking to move to the next stage in its journey by getting homes in the ground. With this is mind, securing land is now the priority. "It's all about land, land, land and identifying potential sites as we aim to achieve our target of having at least 30,000 plots in planning," says Mr Allso. "We will break ground by the end of 2018 at our first site at Parc Emlyn, which is a 54-acre site at the end of the M4 near Swansea where we will be developing 1,000 units.
"We are exploring other opportunities and to date it has been a fairly smooth process but we're not getting complacent. We're taking a much wider approach and the reason we're not a contractor developing sites for anyone else is that we want to not only build homes but also build communities where we're involved in all the individual elements. Having this level of control is very important and we're working with various parties on this to make progress. The more exposure we get, the more awareness there is of what we're about, and in turn the whole process becomes easier."
"We are already having some impact generally and with the Government and local authorities more specifically. It's just a case of getting the land availability now to keep the momentum going and securing the planning permissions. As you can imagine, local authorities love what we are doing because no-one delivers 100 per cent affordable housing completely and no-one delivers sustainable housing that virtually is zero carbon. We're therefore ticking all of the planning boxes, particularly when you add in the warranty and the mortgageability aspects."
Given the pressure that the UK housing sector is currently under, it will be interesting to see how much progress LCC is able to make moving forward. Having already put in such strong groundwork in developing its own infrastructure and supply chain, the company potentially looks well placed to play its part in addressing the challenges the industry is seeing.