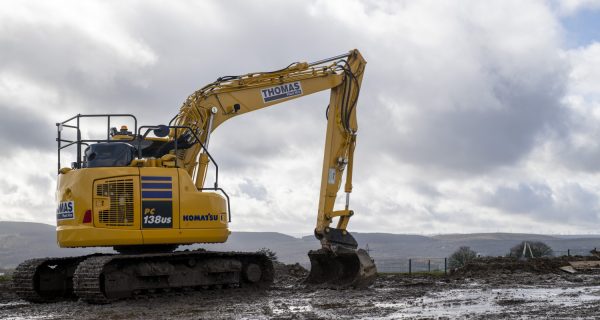 Thomas Plant Hire, one of the UK's leading plant hire specialists with 13 depots throughout the UK, has announced the acquisition of leading Scottish plant hire specialist, Mulholland Plant Services Ltd.
The acquisition will see Mulholland absorbed into the Thomas Plant Hire family and become its number one leading depot, north of the border in Polbeth, West Calder, Scotland, between Edinburgh and Glasgow. This strategic purchase is just the most recent in a string of successful acquisitions that the Thomas Group has made in recent years, further developing the business and its status as one of the leading plant hire specialists in the UK.
Ian McMillan, Head of Business Development for the Thomas Group, reports: "We are delighted to announce this latest acquisition. This is a good fit for us, as we have long had ambitions to cross the border into Scotland. Like Thomas Plant Hire, Mullholland is a family run business with very similar values to our own. Their ethos is aligned with ours, as is its fleet size. We envisage substantial growth in Scotland with this acquisition and 2024 will be a very exciting year. The new depot will be fully stocked in the coming weeks allowing us to offer the full range of equipment our clients across the UK have become accustomed to. The groups offering in Scotland will include both Self-Drive and Operated machinery, so I would encourage any machine operators to get in touch and register with us for future works.
"Our machine control division On-Grade MC will also be supporting both our internal fleet and that of our clients in Scotland, with GPS machine control and the latest innovations in machine control and survey equipment.
"A major part of our sustained growth in the plant hire sector has been through strategic acquisitions, with recent names acquired including Hogg Hire, Kaill Plant, Diggers of Bury and Hawkrent. Our market reach is ever extending as we see a continued growth of approximately 30%, year on year in terms of fleet size, and turnover.
"The changeover to Thomas Plant Hire takes place with immediate effect, with all employees being retained, and highly valued as the business transitions, with Steven Mulholland remaining in post to oversee operations.  We also look forward to meeting all our existing customers, as well all the new ones we trust we will attract in Scotland as the Thomas Group name becomes established."