With the hurdles that companies face in the modern business world it's no surprise that around half of all start-ups in the UK fail within the first five years. Those that do prosper remain at the mercy of various challenges outside of their control, whether it's global economic downturns or wide-reaching political developments such as Brexit. The fact that Howarth Timber Group this year celebrates its 180th anniversary is therefore a phenomenal achievement, as the company moves into 2020 it is building on a heritage and legacy that few can match. So what's been the key to this longevity and ability to successfully move with the times? Construction Industry News recently caught up with Nick Howarth, Managing Director, to find out.
"Over the years we have grown to provide not only the widest range of products, but also the expertise, service and knowledge that can be relied upon," explains Mr Howarth. "Now the UK's largest privately-owned timber company, our origins can be traced back to 1840 when we commenced trading as Hudson & Co. Since then the business has expanded from a one-man company into an employer of more than 1,000 specialists who know the industry inside out."
Howarth Timber and Building Supplies is about much more than just timber, as it offers a one-stop-shop for all building needs. The categories that it supplies for encompass everything needed to build a house including:
Plasterboard and Insulation;
Plumbing and Heating;
Doors, Floors and Joinery;
Tools, Fixings and Finishings;
Timber and Sheet Materials;
Building Materials and Drainage;
Kitchens and Bathrooms;
Garden and Landscaping.
For 180 years Howarth Timber has been determined to be the best and, supported by its extensive branch network of 33 branches across the country, it has in-depth knowledge of what it takes to provide the best service and build true working relationships.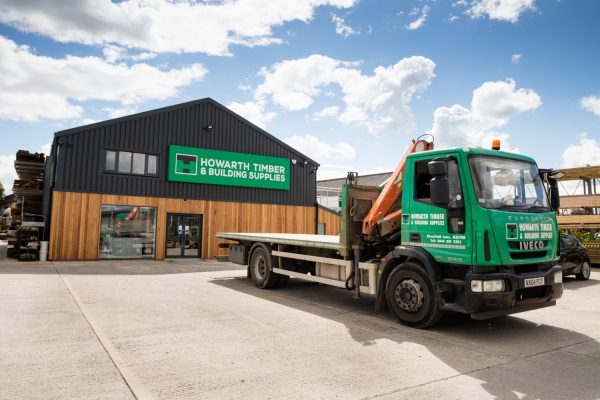 "Being a family business runs through everything we do," adds Mr Howarth. "It's clear in how we interact with each other and how we deliver outstanding service to our customers, every time. Our friendly and knowledgeable staff are always happy to help, with a product range that offers great value and top quality. We're also proud of our innovative website, where customers can save time by ordering and managing their account online. We can deliver orders direct to site, to customers' homes or to a selected branch."
As befits a company with such a well developed infrastructure and service provision, Howarth Timber Group has attracted plenty of industry recognition over the years and 2019 was no exception with the company carrying away half a dozen prestigious awards. It was named Timber Merchant of the Year, Trader of the Year, while also securing the Excellence in Marketing Award, at the Timber Trade Journal Awards 2019. In addition, it was named BMF's National Training Company of the Year and won BMJ's Diversity Award and Timber Merchant of the Year.
"We were very proud to just be nominated so we were over the moon to win six highly recognised awards over the last year. It isn't just an excellent news story for us, it is a public acknowledgement of the commitment and effort put in by everyone inside our business. We are all extremely proud.
"Early in 2019 we won the brand-new Diversity Award, which was both a great honour and a fantastic start to the year, as it means we are recognised as a very open and welcoming place to work.
"Timber is still the beating heart of our business and we've done a great deal in the last couple of years to promote our heritage to our customers. While we continue to grow and become more well known as a one-stop-shop, we are very proud to have been recognised for timber at the Timber Trade Journal Awards and again at the Builders Merchant Journal."
One of the most significant achievements in 2019 came from winning the BMF Training Award and Mr Howarth said: "We were delighted to win the BMF's National Training Company of the Year accolade. This is a prestigious and highly sought-after award, which we have now managed to win three times.
"Offering training is essential when it comes to growing our business and receiving these kinds of awards is a recognition that our approach is paying dividends."
The fact that Howarth Timber is no stranger to this particular award really underlines the consistency and quality of its approach to training and staff progression. BMF CEO, John Newcomb, said: "Howarth has shown a real dedication to the development of its team. I am particularly delighted that they are making full use of BMF's training offer."
Mr Howarth continues: "Our company is only as good as its people and our top priority is to invest in our greatest asset: our staff. We want to make sure everybody in the company has the tools required to deliver excellence in customer service and efficiently operate internal systems, as well as share their expert product knowledge.
"We regularly review our training programme to ensure that we remain at the top of our game. In 2019 we invested over £100,000 into training for processes, systems and services. It is important for branch managers and staff to understand how our customers shop, what they require and how it can be best delivered. This forms the basis of our training in order to raise the bar in areas such as attracting and retaining new customers.
"A large programme was customer service training and for this we called in the services of an external training provider. They looked at how Howarth operates and what training was required."
Following time with management and time spent in branch watching interactions take place, a two-day training programme was launched looking at how customers and employees make decisions, as well as discovering different personality traits. This knowledge allows employees to tailor their interaction to suit individual personality types and serve them in the way that works for them, rather than employing a blanket approach. The second day looked at the sales process and customer journey, with each branch manager taking away three customer priorities to work on with their team in branch.
The training was filtered down through the business and supported with documents and charts on the sales cycle and ideas on how to focus their teams on delivering customer service.
Howarth also provides TimberPro Training for employees, a blend of distance e-learning and face-to-face training that offers comprehensive insight across all timber products, as well as other related areas such as sustainability, treating and purchasing that help build up a repertoire of skills. Upon completion employees receive an 'Award in Timber Merchanting', an industry recognised qualification.
Mirroring its commitment to staff development, Howarth Timber is also continually investing in its infrastructure. For instance, it has recently overseen a series of branch openings including its new sites in Northwich, Cheadle and Chester. In addition to these brand new branches, the group has also completed several full branch refurbishments in the likes of Corby, Malton, Wakefield, Barrowford and Leeds. This is part of a programme that will eventually see it upgrading its entire network nationwide.
"The new branches and branch refurbishments form part of our wider commercial strategy to revitalise the customer journey, making it easier for them to do business with us. The main objective of our new Kitchen, Bedroom and Bathroom showrooms and branch layouts was to create an atmosphere that would attract and serve both trade and retail customers and allow them to quickly and easily find everything they need for their project.
"We don't just want to survive in this challenging and competitive marketplace, but thrive and flourish. The only way to achieve this objective is by acknowledging our customers' needs and then delivering relevant solutions quickly and efficiently. In essence we want to become the merchant of choice, so we need to be the best we can at delivering excellent customer service and going that extra mile."
Howarth Timber Group's proactive approach to continual improvement is testament to its refusal to rest on its laurels, regardless of how many years it has under its belt or the number of prestigious awards it has collected. This ethos is as important now as ever before, given the challenges the business is contending with.
"As we move into 2020 the general economy remains subdued with business activity expectations close to a ten-year low. The UK construction market showed weakening performance during 2019, especially in the repair and maintenance (R&M) sector and new non-housing construction. The private R&M market is likely subdued due to consumer confidence with the recent political activity. Looking more long term and at the Construction Products Association (CPA), the construction output is forecast to remain flat and eventually rise by 0.5% towards the back end of 2020.
"Despite all of this however, we have managed to minimise any affects of the adverse market conditions due to the investments we made in our people, our systems, training and the way we operate.
"Our people are the ones that make a real difference. Having a great team who know and understand their business, their local area and their customer needs means they'll strive to go the extra mile to help their customers.
"We really do believe as a company, from the Managing Director down, that people are by far and away our best asset, and that goes back to our core values. After some research with both customers and colleagues, in 2019 we realigned our brand proposition and the Howarth Way was born: a customer promise outlining how we will save them time, make their lives easier and make them more money."
As it looks to build on its highly trained workforce, its well developed branch network and its close working relationships with its customer base, Howarth Timber Group remains committed to the strong foundations on which the company has been built.
"One of our core values is to be 'successful' but that doesn't mean being the biggest, it means continually developing our service offering to our customers and, where possible, expanding our range to meet new needs," concludes Mr Howarth. "There are numerous benefits of being a family-owned and run business. One of them is long-term planning and stability, as we're here for the long run and will always look after our people like a family."
This is a philosophy that has served Howarth Timber Group tremendously well over the past 180 years. While it can quite rightfully celebrate reaching such a significant milestone in 2020, it is also clear that the company is also looking towards the longer term horizon with confidence, as it edges ever closer to achieving an unbelievable 200 years of operation.